Matthew Parrish Quartet ft. Houston Person
November 25, 2022 @ 8:30 pm

-

11:00 pm

$25.00 – $45.00
Matthew Parrish Quartet ft. Houston Person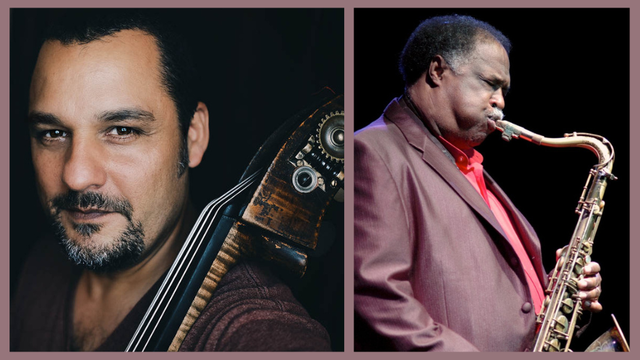 Matthew Parrish & Houston Person
Jazz bassist Matthew Parrish has 'come into his own' as a sought after performer, arranger, composer, producer and instructor. Matthew brings skills and s wing as he puts his heart into every note he plays. He has a genuine warmth and loyalty to the music that transcends into every note, every tune, and every interaction with his fellow musicians.
Born in central California to hard-working, music-loving parents of four children, Matthew is the youngest to his next sibling by eleven years. With a variety of jazz, rock, and classical music being played around him since birth, whether live or recorded, and a father who played acoustic bass early in his military career, Matt was destined for a life dedicated to music. Although he started on trumpet in middle school, he switched from that instrument for the acoustic bass in a last minute decision of the heart right before his Rutgers Mason Gross School of the Arts music program audition. He was accepted as an acoustic bass student in jazz studies and he has never stopped learning his craft.
Matt's young bass career is grounded in Philadelphia, PA. He had the blessing, in his late teens and early twenties, of performing with Shirley Scott, Mickey Roker, Bobby Durham, Cecil Payne, Johnny Coles, Harry 'Sweets' Edison, Sylvia Simms, Danny Turner, and fellow young musicians, Orrin Evans and Byron Landham. Matthew went on to have the unforgettable experience of touring with legendary trombonist, Al Grey. This era also included performing with Clark Terry, Marion McPartland, Dr. Lonnie Smith, Lou Donaldson, Joe Cohn, Savion Glover, and Bill Charlap.
After the sad passing of Al, an important mentor and friend, Matthew continued to tour with the bands of Greg Osby, Jon Jang, James Newton, Stefon Harris, and Regina Carter. Matt came to be relied upon as a gifted composer and arranger in addition to his steady performing. His own works, as played by Matt on bass, are on his debut CD, 'Circles' (Hipnotic Records), as well as on recordings from Regina Carter and Dave Leonhardt, Denise Montana, and Ben Schachter.
Houston Person grew up in Florence, S.C., studied at the state college there, was later named to the school's Hall of Fame in 1999, and continued his studies at Hartt College of Music in Hartford, CT. Earlier, in the U.S. Air Force, he played with Don Ellis, Eddie Harris, Cedar Walton, and Leo Wright. Contrary to popular belief, he was never married to the late singer Etta Jones, but did spend many years as her musical partner, recording, performing and touring.
Although he has performed in the hard bop and swing genres, he is most experienced in and best known for his work in soul Jazz. Person is also known for his distinctive sassy sound and his expressive style of playing. He received the Eubie Blake Jazz Award in 1982.
He has more than 75 albums under his own name on Prestige, Westbound, Mercury, Savoy, Muse, and is currently with High Note Records. He has recorded with Charles Brown, Charles Earland, Lena Horne, Etta Jones, Lou Rawls, Horace Silver, Dakota Staton, and more.
Houston has define ideas about Jazz: "Well, it's uplifting and important. And a release and a relief. That's what it is, Jazz, so called Jazz, to me. It's important that it's relaxing. Something that when the end of the day comes, after a hard and frustrating day out in the world, that relieves you. Relaxes you and makes you feel good." Person adds that all he wants is to give people "good solid melodies with some improvisation and plenty of blues feel." He smiles, "You always want that dance feeling there, that happy, happy feeling."
Related Events