New Year's Eve 2022 at The Side Door & Old Lyme Inn (Midnight Toast Set)
December 31, 2022 @ 10:45 pm

-

January 1, 2023 @ 12:01 am

$75.00
New Year's Eve 2022 at The Side Door & Old Lyme Inn (Midnight Toast Set)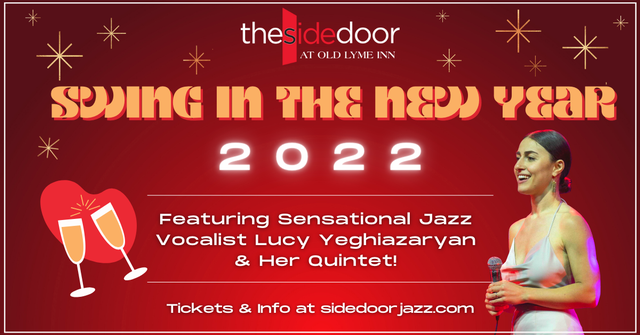 Celebrate New Year's Eve 2022 With The Best In Live Jazz, Our Grand Buffet (Reservations Made Separately, See Links Below), and a complimentary champagne toast!
Celebrate 2022 becoming 2023 with a one-of-a-kind experience featuring the marvelous and elegant jazz vocalist, Lucy Yeghiazaryan, and her fantastic New York City All-Star Quintet!
You are currently viewing the ticket page for the LATE SHOW (Midnight New Year's Eve Toast).
7:30pm – Dinner Reservations (Optional) For Our Grand Buffet Can Be Made HERE (scroll down to "New Year's Eve" Experience (see menu below).
10:15pm – Jazz Club Doors Open
10:45pm – 12:01am Show + New Year's Eve Toast!
ABOUT LUCY YEGHIAZARYAN
Lucy Yeghiazaryan is an American Armenian vocalist who has become a leading voice in American straight-ahead jazz by bringing the real richness of her heritage together with her love for the ultimate American artform. She is a recipient of grants from the Doris Duke Foundation, Chamber Music America and the New York Foundation for the Arts. She has shared the stage with Harold Mabern, Houston Person, Grant Stewart, Terell Stafford, Bernadette Peters, Arto Tuncboyaijian and many more. She regularly works with the Emmet Cohen trio and can be found performing in and outside of The United States with regular appearances at Jazz at Lincoln Center, Birdland, Mezzrow, Symphony Space and more. She was a top ten finalist in the 2015 Thelonious Monk Competition and holds a degree in World History in addition to being a skilled classical violinist. Her debut album, Blue Heaven, was released in 2019 on Cellar Live Records and was followed by the album In Her Words on La_Reserve Records in 2021 which was sponsored by The Women's Fund of NYFA. Her third album, Lonely House will be released in late 2022.
Lucy Yeghiazaryan grew up in post-Soviet Armenia and began listening to her father's once-contraband collection of jazz records at a young age. Electricity was intermittent so these listening sessions were rare but the collection of standards so captivated young Lucy that years before she ever learned to speak English, she began singing the tunes meticulously mimicking the sounds and styles of the likes of Ella and Sarah Vaughan.
Economic hardships eventually forced the family to immigrate to America in 2002. Yeghiazaryan brought her passion for jazz to the States, where she applied for and received a full scholarship to NJPAC's Jazz for Teens Program and happily became part of the local jazz community. After graduating college, Lucy moved to New York City in 2015 to pursue a career as a singer, and in a few short years she has won the respect and accolades of the elders at the epicenter of the jazz world.
GRAND BUFFET MENU
(Reservations Separate From Ticket Made HERE – Scroll Down To "New Year's Eve" Experience)
Related Events