Maria De Angelis with The Michael Kanan Trio
November 4 @ 8:30 pm

-

11:00 pm

$20 – $40
Maria De Angelis with The Michael Kanan Trio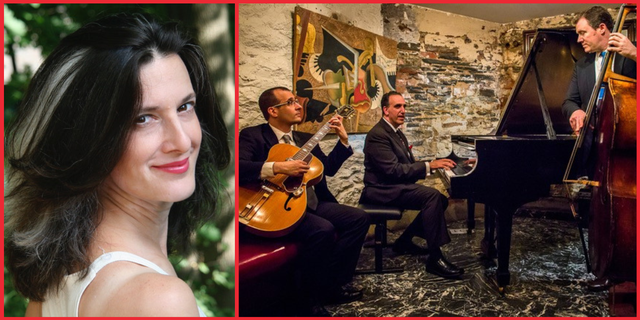 Maria De Angelis & Michael Kanan Trio
Maria DeAngelis, vocals
Michael Kanan, piano
Neal Miner, bass
Greg Ruggiero, drums
Vocalist Maria De Angelis, a recent emigrée to SE Connecticut from New York City, was born in Syracuse, NY.  She has been singing jazz standards and originals for more than four decades, and recorded 4 CD's with her favorite trio, comprised of Michael Kanan on piano and Neal Miner on bass, whom you'll hear tonight, and Tim Pleasant on drums. In 1994 she was a finalist in the first Thelonious Monk International Jazz Vocal Competition. In New York, she studied under jazz greats Sheila Jordan, Mark Murphy, Andy Bey, and Sal Mosca – all of whom sat in at her 5-year steady Monday night gig at Eamonn Doran, a Manhattan restaurant. Her first performances in New York were accompanied by her roommates Joshua Redman, Mark Turner, Jorge Rossy, and Michael Kanan. She has played at Birdland, Smalls and Cleopatra's Needle, and other NYC jazz establishments.
In 1997 Maria began a songwriting collaboration with the late pianist and composer Phil Klein. Together they wrote 100+ songs; some of the French ones were placed in primetime TV shows and major motion pictures (The Fault In Our Stars, Bigger Than the Sky, Grey Matters).  Maria has produced 5 CD's and three sold-out shows (Mean to (All of ) Me: A Codependent Songbook; A Joni Mitchell Tribute; and Black Beans and Pink Popcorn: A Night of Bossa Nova). Maria played guitar and sang lead on Joni Mitchell and Bossa Nova. She lived in France from 2008 to 2010, where she sang in Paris jazz clubs and headlined in jazz festivals. While there, she had the opportunity to sing in Dakar, Senegal. Tonight's performance is her first at the Side Door, but she has recently begun singing with the Connecticut-based String of Pearls Big Band.
Michael Kanan hails from Boston, Massachusetts where he first began to play the piano at age 7. He started improvising at the keyboard early on, and by age 10 was listening to jazz. His first instructor was pianist Harvey Diamond, a student of jazz innovator Lennie Tristano. During his years at Boston College, Michael had the opportunity to perform with several jazz greats including Tal Farlow, Lee Konitz, Al Cohn, and Alan Dawson. After graduating college and doing some freelance work around Boston, he moved to New York in 1991 to study with another Tristano student, the pianist Sal Mosca. He established himself in New York, playing and recording with Kurt Rosenwinkel, Mark Turner, and Jorge Rossy, among others. He also developed a growing reputation as a vocal accompanist. In 1996, he joined the band of legendary singer Jimmy Scott, touring the US, Europe, and Japan and recording 4 CDs. In 2001, Michael became the accompanist and arranger for one of today's most celebrated vocalists, Jane Monheit. With Ms. Monheit's group, he has toured all over the world and made many recordings and TV appearances. Their professional relationship continues to this day.
The Michael Kanan Trio can be heard in New York featuring guitarist Greg Ruggiero and bassist Neal Miner. The trio often performs at Mezzrow, a famous Greenwich Village club, where they have recorded 2 live CDs. The group also performs at various established NYC venues. The trio performed twice at Carnegie's Weill Recital Hall as part of the Sophia Rosoff Series. Michael has worked all over New York at venues large and small, including The Blue Note, Birdland, Iridium, Dizzy's, Smalls, Mezzrow, Fat Cat, and many others.
Related Events