Mitch Marcus (tenor sax & piano), Evan Francis (alto sax & flute), Jeff Miles (guitar), Peter Brendler (bass), Jerad Lippi (drums)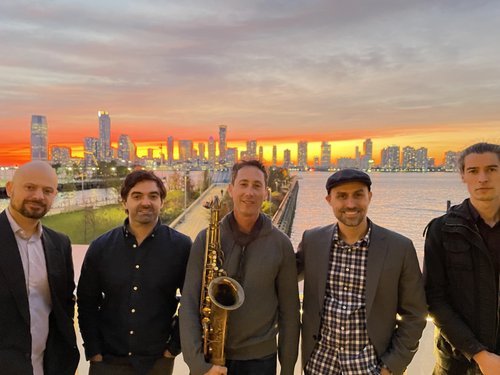 Veteran composer and multi-instrumentalist Mitch Marcus leads the powerhouse Mitch Marcus Quintet- a full-throttle ride through the various strains of bebop, post-bop and beyond. Featuring Marcus on tenor saxophone, Evan Francis on alto sax and flute, Jeff Miles on guitar, Jerad Lippi on drums and Peter Brendler on bass, the Quintet is explosive in shifting from Mingus-inspired ostinato grooves to hard-charging swing, exploratory open sections and tightly arranged, angular melodies.
A longtime and native New Yorker, Marcus started his Quintet while living in the Bay Area in the late 1990's, and previous iterations of the group have included drummers Ches Smith, Tomas Fujiwara, guitarist Mike Abraham, saxophonist Sylvain Carton, bassist George Ban-Weiss and many others. The San Francisco Chronicle said of Marcus, "His commanding touch and his startling use of the various sounds of bebop- wobbly, sweltering and explosive- are unmistakable." While his impressive tenor playing has gained the most notice, Marcus is equally adept at the piano and also leads The Invaders Trio, a group which showcases his compositions in the piano trio format. The Quintet's tunes- shape-shifting rides through styles that somehow always retain their grounding in bebop and swing- reflect Marcus' omnivorous appetite for many genres of music. The longtime music director for 60's folk-icon Donovan, Marcus is equally at home in his other groups, including the avant-bluegrass Japonize Elephants, the big band funk of The Get It, the West African jazz of Molly Tigre and several others.
Marcus's compositions have won a 'subito' grant from the American Composers Forum (for the MMQ +13 Big Band- a big band version of the Quintet), and have been commissioned by the DeYoung Museum in San Francisco, Oakland's "Counterpointe" dance company and several others. Mitch proudly endorses Vandoren mouthpieces and reeds.
Performance:
8:30pm – $25
Livestream:
8:30pm – $10 (online only)
Virtual Season Pass – $100 (online access only)