Richard Baratta's Gotham City Latin Jazz Sextet
April 1 @ 8:30 pm

-

11:00 pm

$25.00 – $45.00
Richard Baratta's Gotham City Latin Jazz Sextet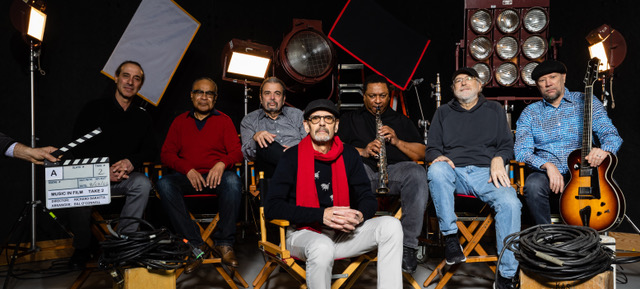 Richard Baratta, Drums and Leader
Vincent Herring – Saxophone
Bill O'Connell – Piano
Paul Bollenback – Guitar
Michael Goetz – Bass
Paul Rossman – Percussion
Grammy nominated Richard Baratta, began his musical journey at the age 12, playing sax, flute and drums, and eventually, exclusively drums, playing mostly jazz  all through his teens.
From 1975 thru the mid 80's he played with Hal Galper, Johnny Hartman, John Stubblefield, Mike Richmond, Kyo Kawasaki, Stu Goldberg, The Saheb Sarbib Multinational Big Band, Jack Wilkins, Peter LaBarbara, the Marveletts, and others. In 1984, Baratta decided to alter paths and pursued a movie career.
Since 1984, Baratta has worked on over 50 movies, first as a location manager, then Unit Production Manager, and for the past 15 years as a Co-Producer and Executive Producer. Some of his recent films have been JOKER, CHICAGO 7, Martin Scorsese's IRISHMAN, THE WOLF OF WALL STREET, TAKING OF PELHAM 123,  5 SPIDERMAN movies, ACROSS THE UNIVERSE, MAID IN MANHATTAN, AWAKENINGS, BIG and many ,many more.
In 2017 he decided to return to his roots and main love and began performing music again, as well as producing films.  In the past year he has played with Eric Alexander, Vincent Herring, Walter Blanding, Marcus Printup, Gerald Cannon, Bill O'Connell, Emmett Cohen, Mike LeDonne, Jerry Weldon, Rogerrio Bocatto, Dave Kikoski, Mike Goetz, Paul Bollenback, Dave Stryker, Pat Bianchi,etc.
In 2019 Baratta released his  CD, COMEBACK, a live recording of Latin/Jazz at the Astor room. In 2020 he released MUSIC IN FILM-THE REEL DEAL to critical acclaim.
From that recording he and bandmate Bill O'Connell received a 2022 Grammy Nomination. In September of 2022, a new recording, MUSIC IN FILM – THE SEQUEL, was released to great reviews. . He has been performing frequently with his GOTHAM CITY LATIN JAZZ SEPTET, as well as THE 3B's + 2.
Related Events