Sarah Hanahan Quartet
June 24 @ 8:30 pm

-

11:00 pm

$25.00 – $45.00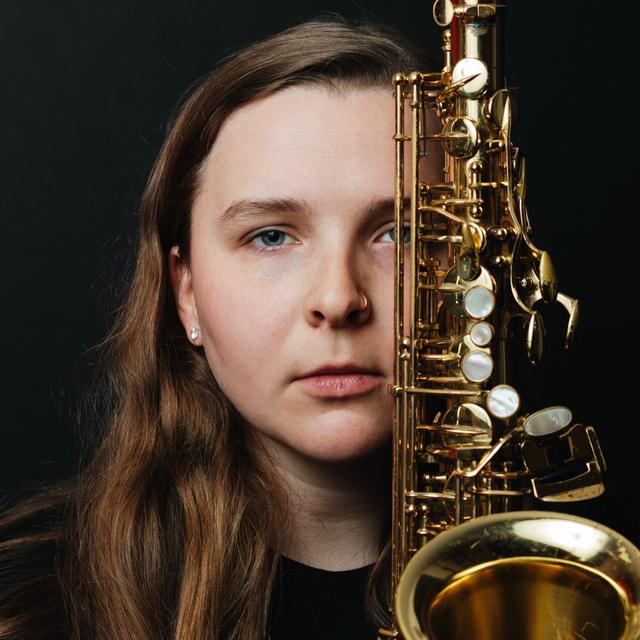 Sarah Hanahan is an up-and-coming jazz saxophonist in New York City and is currently pursuing her Masters Degree in Jazz performance at The Juilliard School. Now a resident of New York City but originally from Marlborough, Massachusetts, Sarah grew up listening to a wide variety of music, but always had a special love for jazz.  Her father, who plays drums and percussion, introduced Sarah to music and gave Sarah her first saxophone at the age of 8.  Sarah played lead alto sax for the Marlborough High School jazz band. As a high school senior, Sarah was lead alto for the New England Conservatory Prep Jazz Orchestra under the direction of Ken Schaporst, who taught her much about the history and tradition of big band music. She also studied with tenor saxophone great, Jerry Bergonzi.
In 2015, Sarah was awarded a full scholarship to study jazz performance at the Jackie McLean Institute of Jazz within the Hartt School of Music (University of Hartford).  Her college professors include well-known jazz saxophone performers Javon Jackson and Abraham Burton.  The Jackie McLean Institute has also afforded Sarah the opportunity to receive instruction from and perform with accomplished jazz musicians such as bassist Nat Reeves and trombonist Steve Davis. She recently graduated with her Bachelors of Music in the spring of 2019.
In the fall of 2020, Sarah started pursing her Masters Degree at the prestigious Juilliard School in New York City. She is focusing on Jazz performance and is studying with some of the best musicians in the business including Bruce Williams, Ron Blake, Kenny Washington, Marc Cary and others.
In addition to her heavy gigging schedule, Sarah and her band have had many amazing opportunities over the last few years to play at renowned festivals and clubs such as Smalls, Jazz at Lincoln Center, the Charlie Parker Jazz Festival, The Detroit Jazz Festival, The Side Door Jazz Club, the Paul Brown Monday Night Jazz Series, The Rubber City Jazz Festival and many more. Sarah Hanahan Quintet was also awarded 2019 Best Jazz Band by CT Now Readers Poll.
Sarah was also awarded the great opportunity to participate in many Jazz programs over the last few summers. These programs have provided Sarah with mentorship from some of the best in the jazz world and have been invaluable experiences. She participated in prestigious programs such as the Betty Carter Jazz Ahead program at the Kennedy Center 2019, Jazz Aspen Snowmass with Christian McBride 2019, Boysie Lowery Living Jazz Residency 2019, Woodshed Network with Dee Dee Bridgewater 2019, and Ravinia Steans Jazz Institute 2018. These programs included working with jazz greats such as Christian McBride, Jason Moran, Gregory Hutchinson, Dee Dee Bridgewater, Rufus Reid, Billy Childs, Tim Hagans, Marcus Printup, Peter Martin, Shelly Berg, Casey Benjamin, and many other greats. Sarah was also a part of Dee Dee Bridgewater's 2019 inaugural WoodShed Network program which comprised of 8 young women in jazz talking about business and female empowerment in the industry.
Sarah has been working a lot with her band but has also had the privilege to be a side person for many of her heroes and mentors. Recently Sarah has been touring nationally and internationally with jazz greats like Ulysses Owens Jr., Sherrie Miracle and the DIVA Orchestra, The Dee Dee Bridgewater (DDB) Big Band, and The Jazz Ambassadors. She has also been working with Jason Moran as part of a collaboration with the Kennedy Center in Washington DC. Sarah lives in NYC and can be found playing at various clubs in the city including Birdland, Smalls Jazz Club, Dizzy's Club and others!
Sarah is currently a Boston Sax Shop Brand Ambassador and plays BSS reeds along with other saxophone accessories. Sarah's main horn is the Yanagisawa A-991 alto saxophone.
Sat, June 24

8:30PM / $25 – $45 | $2.58 – $3.56 Fees
Get Tickets
Related Events